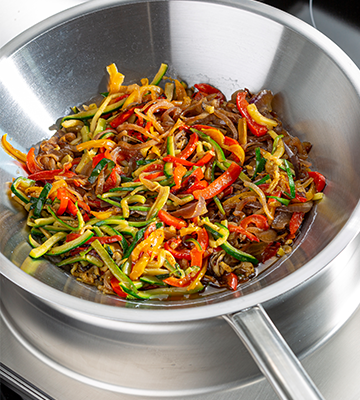 The healthiest cooking methods
Discover the healthiest cooking methods
Adopting healthiest cooking methods is important for health. To choose cooking methods for good health, but also to preserve the planet, follow the guide! 
Fast and gentle cooking  
Not all cooking methods are created equal. So to preserve your health, what are the most appropriate? First thing to know about cooking: a health cooking must respect the nature of the food and cook in the gentlest way possible. For example, avoid cooking too long in the oven, which denatures the food. For a qick cook, you can choose wok cooking, which allows you to sear meat and fish in a few moments and brown vegetables and fruits in a jiffy.  Another option: opt for raw, rich in vitamins.   
The Art of Steaming  
One of the healthiest cooking methods is steaming. It allows you to cook gently while preserving the benefits of food.  To give flavor to your small steamed dishes, use aromatic herbs or spices. Mint, bay leaf, coriander, curry, paprika, turmeric…  Vegetables or fruits are of course perfect for steaming. This is also the case of fish or meat, which will keep all their softness.
Choose the right materials 
When selecting cooking materials, it is important to opt for healthy options. Consider using glass, which is ideal for cake molds, as well as stainless steel. Terracotta, unglazed cast iron or porcelain are also intriguing choices as they are healthy, sustainable and natural. Scratches on your nonstick pan? There are risks of loss of toxic materials so head to the trash!  Finally, avoid aluminum foil when cooking, which can be toxic to the body, especially when it comes into contact with acidic foods.  
Avoid plastic! 
Cake molds are sometimes made of plastic and other low-end silicones, whose composition and provenance are not always identified. They can contain endocrine disruptors, so it's important to avoid them, especially when cooking.