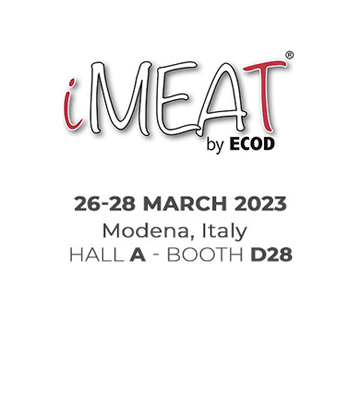 Dito Sama participates at IMEAT
It will be held from March 26th to 28th at Modena Fiere.
Dito Sama will participate at Imeat, the exhibition dedicated to the butchery and gastronomy sectors.
IMEAT
Dito Sama's presence represents a unique opportunity to discover the innovative and versatile solutions that the company offers to professionals in these sectors.
With its wide range of equipment, Dito Sama caters to those seeking flexible and high-performing solutions to diversify their menu and meet all their preparation needs.
Among the equipment offered in different capacities there will be vegetable slicers, cutter mixers, combined machines, planetary mixers, and the brand-new vacuum packer machine. An ideal solution for preserving food longer and facilitating consumers in the quick preparation of a genuine "homemade" meal.
Dito Sama will be partnering with Zanussi Professional in Pavilion A – Stand D28, with its wide range of products dedicated to a sector in constant evolution.
Do not miss the opportunity to discover Dito Sama's solutions: a team of experts will be at your disposal to help you improve your business.