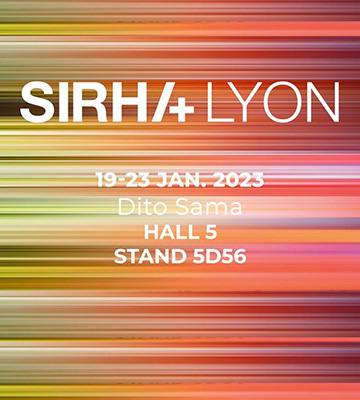 Dito Sama participates at Sirha
The Sirha (Salon International de la Restauration, de l'Hôtellerie et de l'Alimentation) has become a major event in the world of gastronomy.
Organised in Lyon from 19 to 23 January 2023, Dito Sama will be there with its flagship products, product novelties and its new brand identity.
Dito Sama in a new light
Sirha is above all an opportunity for Dito Sama to present its revised image, a real renewal of the brand. A new logo, a new website, a stronger presence on social networks: the image of Dito Sama is evolving and Sirha is the best occasion to share it with its visitors.
 New products to discover
Sirha is also an opportunity for Dito Sama to present its latest product innovations.
First of all, the TBX Pro turboliquidizer, designed and manufactured to mix, blend, liquefy and emulsify without any constraints, from braising pans to multifunctional pans, in compliance with HACCP standards. Ergonomic, the TBX Pro adapts to the user's needs and avoids splashing around thanks to a specific deflector accessory. It also saves time by guaranteeing 100% hygiene. An essential product when you have to prepare large quantities!
The PREP4YOU range, with its vegetable slicers, cutters and combined machines will also be presented on the Dito Sama stand. A compact and extremely flexible range of products that allows you to quickly prepare homemade food, with fresh and tasty ingredients, in total safety and hygiene with zero effort!
Our new range of versatile vacuum packers that guarantee perfect food preservation while complying with hygiene regulations.
Freshness live at Sirha with Dito Sama
The slogan 'Your Fresh Experience' will be in the spotlight on the stand, thanks to a colorful and 'vitaminized' demonstration area where you can see and touch cuts of seasonal fruits and vegetables. Demonstrations that you can enjoy live… Come and meet us!