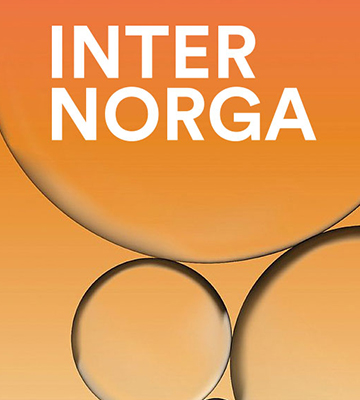 Internorga
Dito Sama participates at Internorga trade show in Hamburg. An opportunity to fill up on new market trends and on what Dito Sama has to offer, which is definitely in step with the times!
From March 10th to March 14th, meet us at Internorga
The healthy food boom
The Internorga international trade fair is a unique opportunity for the major catering and gastronomy players in the world. Healthy food and new trends such as locavorism and flexitarianism are the keystone of the philosophy adopted by Dito Sama which could be summarized in the slogan "Your Fresh Experience". From the 10th  to the 14th of  March 2023, come and visit us in Hall B7 – Stand 418 to discover the latest innovations of our brand,  in tune with the needs of today's consumers.
An opportunity to discover the latest innovations
Healthy eating is one of the main trends in the catering and gastronomy market, and  Internorga will be Dito Sama's opportunity to present its latest innovations, such as the new vacuum packer for perfectly preserving food, the PREP4YOU range which consists of vegetable cutters, cutter mixers and combined machines, perfectly designed to make healthy, fresh and tasty recipes in less time. And finally the TBX Pro turboliquidizer, designed to allow processing in all types of containers from small braising pans to the largest pots.
Least but not last, this event will be an opportunity for Dito Sama to present its new image, its revamped logo and the slogan 'Your fresh experience'.
Search for the "Your fresh experience" corner on the stand  and request your personalized demonstration or try out our equipment directly.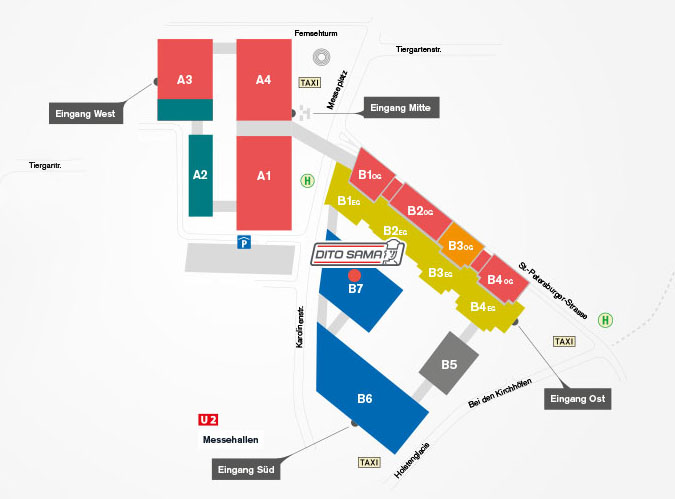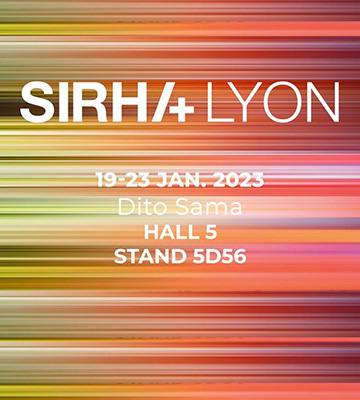 Dito Sama participates at Sirha
The Sirha (Salon International de la Restauration, de l'Hôtellerie et de l'Alimentation) has become a major event in the world of gastronomy.
Organised in Lyon from 19 to 23 January 2023, Dito Sama will be there with its flagship products, product novelties and its new brand identity.
Dito Sama in a new light
Sirha is above all an opportunity for Dito Sama to present its revised image, a real renewal of the brand. A new logo, a new website, a stronger presence on social networks: the image of Dito Sama is evolving and Sirha is the best occasion to share it with its visitors.
 New products to discover
Sirha is also an opportunity for Dito Sama to present its latest product innovations.
First of all, the TBX Pro turboliquidizer, designed and manufactured to mix, blend, liquefy and emulsify without any constraints, from braising pans to multifunctional pans, in compliance with HACCP standards. Ergonomic, the TBX Pro adapts to the user's needs and avoids splashing around thanks to a specific deflector accessory. It also saves time by guaranteeing 100% hygiene. An essential product when you have to prepare large quantities!
The PREP4YOU range, with its vegetable slicers, cutters and combined machines will also be presented on the Dito Sama stand. A compact and extremely flexible range of products that allows you to quickly prepare homemade food, with fresh and tasty ingredients, in total safety and hygiene with zero effort!
Our new range of versatile vacuum packers that guarantee perfect food preservation while complying with hygiene regulations.
Freshness live at Sirha with Dito Sama
The slogan 'Your Fresh Experience' will be in the spotlight on the stand, thanks to a colorful and 'vitaminized' demonstration area where you can see and touch cuts of seasonal fruits and vegetables. Demonstrations that you can enjoy live… Come and meet us!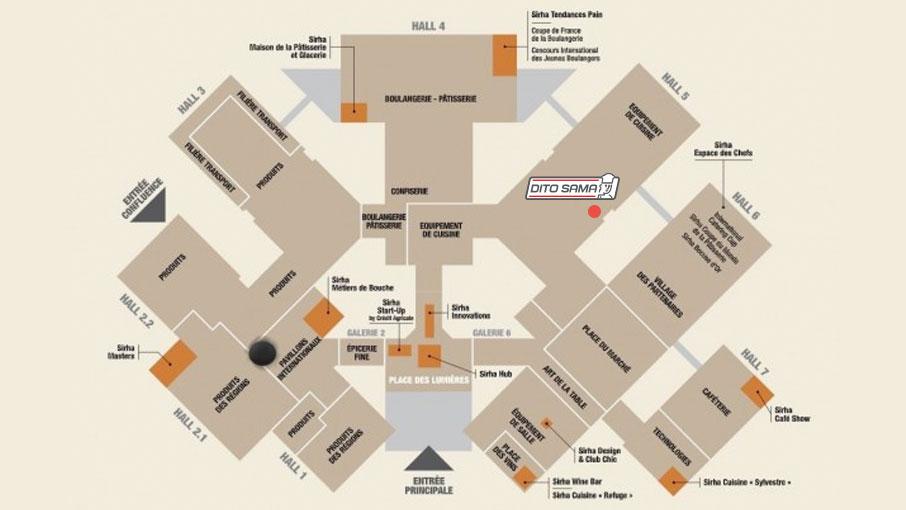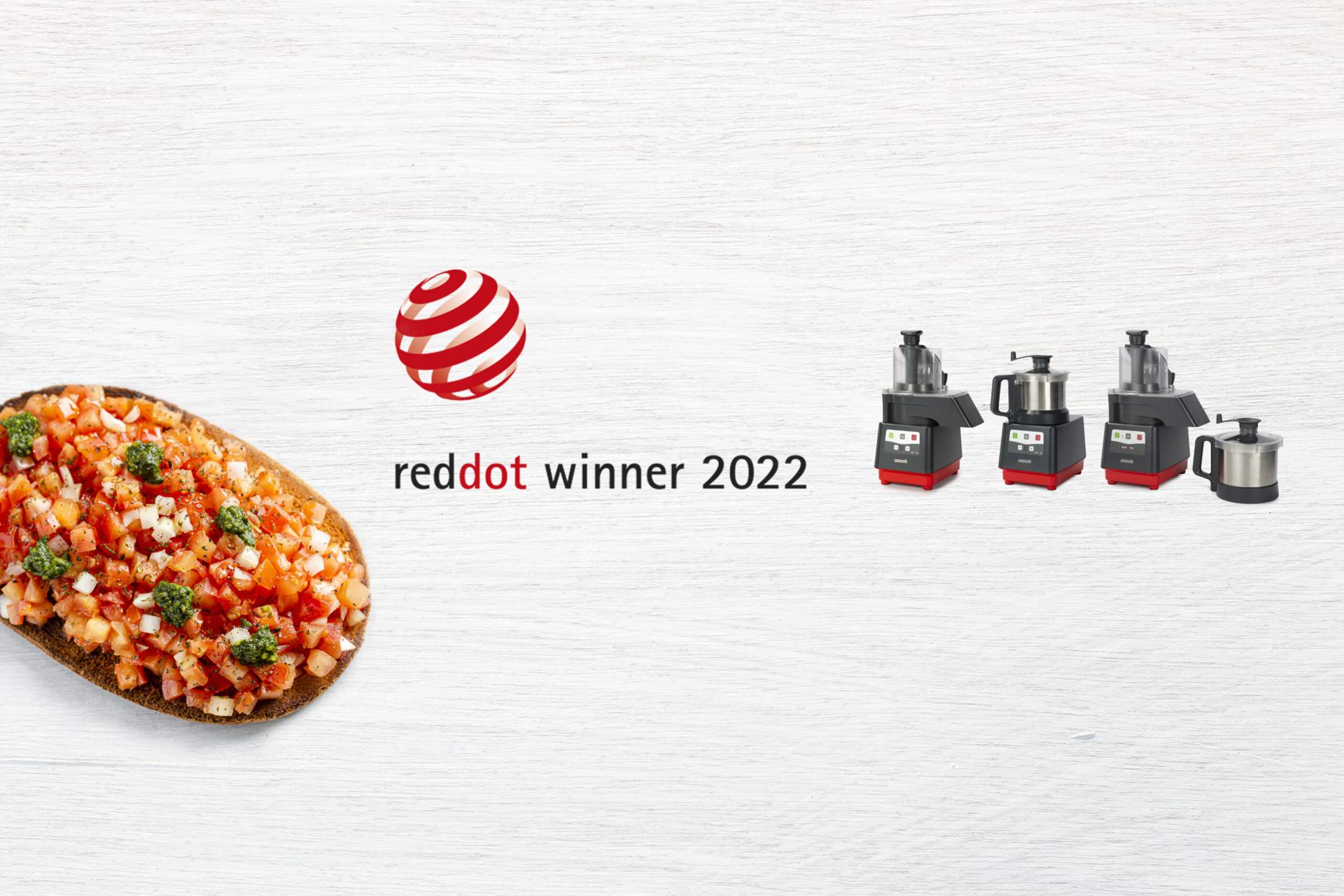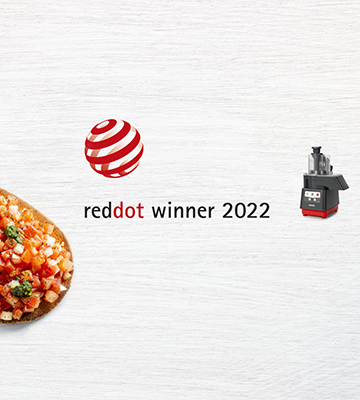 Red Dot award for the PREP4YOU vegetable slicer
The design and user-friendliness convinced the jury!
With the next generation of PREP4YOU vegetable slicers, cutters and combination units, restaurateurs can do what they want – put more fresh vegetables on the table. But it is not only the technical functions and user-friendliness that make the appliance so attractive. The clear design is also convincing. In 2022, the kitchen machine received the Red Dot Award, one of the most recognised design prizes in the world.
As numerous customer surveys by Dito Sama show, restaurateurs would very much like to satisfy their guests' desire for more freshness on the plate, but cutting fruit and vegetables by hand or with other manual aids gets in the way. In many kitchens, there is simply not enough time and appropriately trained staff to manage this.
The compact all-in-one product has been consistently designed with the user in mind and has been awarded 4-star Ergocert certification. The combination of design features, technical functions and user-friendliness makes the product so unique. This was also appreciated by the Red Dot Award jurors. From a large number of submitted exhibits, they awarded the kitchen machine the coveted seal of quality for good design, the Red Dot Award. And not only that. The vegetable slicer was even selected as an exhibition exhibit for the Red Dot Museum in Essen, Germany.
And for good reason. Because the clear, modern design of the vegetable slicer skilfully underlines the performance, multifunctionality, compactness and user-friendliness of the kitchen machine. Thanks to the wide range of different cutting blades, it meets even the highest demands in the kitchen. No matter whether, for example, 5 kg of onions need to be quickly diced or hot chilli or spring onions need to be finely chopped – with the PREP4YOU vegetable slicer, this is no longer a challenge compared to traditional cutting and processing by hand.
Another plus point: all PREP4YOU attachments and all parts that come into contact with food on the appliance can be cleaned in the dishwasher in no time at all. And as has been standard for Dito Sama solutions for years, these parts are free of BPA or other harmful plastic softeners.
The Red Dot award
The "Red Dot" award has established itself internationally as one of the most coveted seals of quality for good design. The awards are presented by an international, independent jury, which annually evaluates the design and innovative strength of thousands of submitted products. The globally respected award has been honouring products with outstanding design for over 60 years.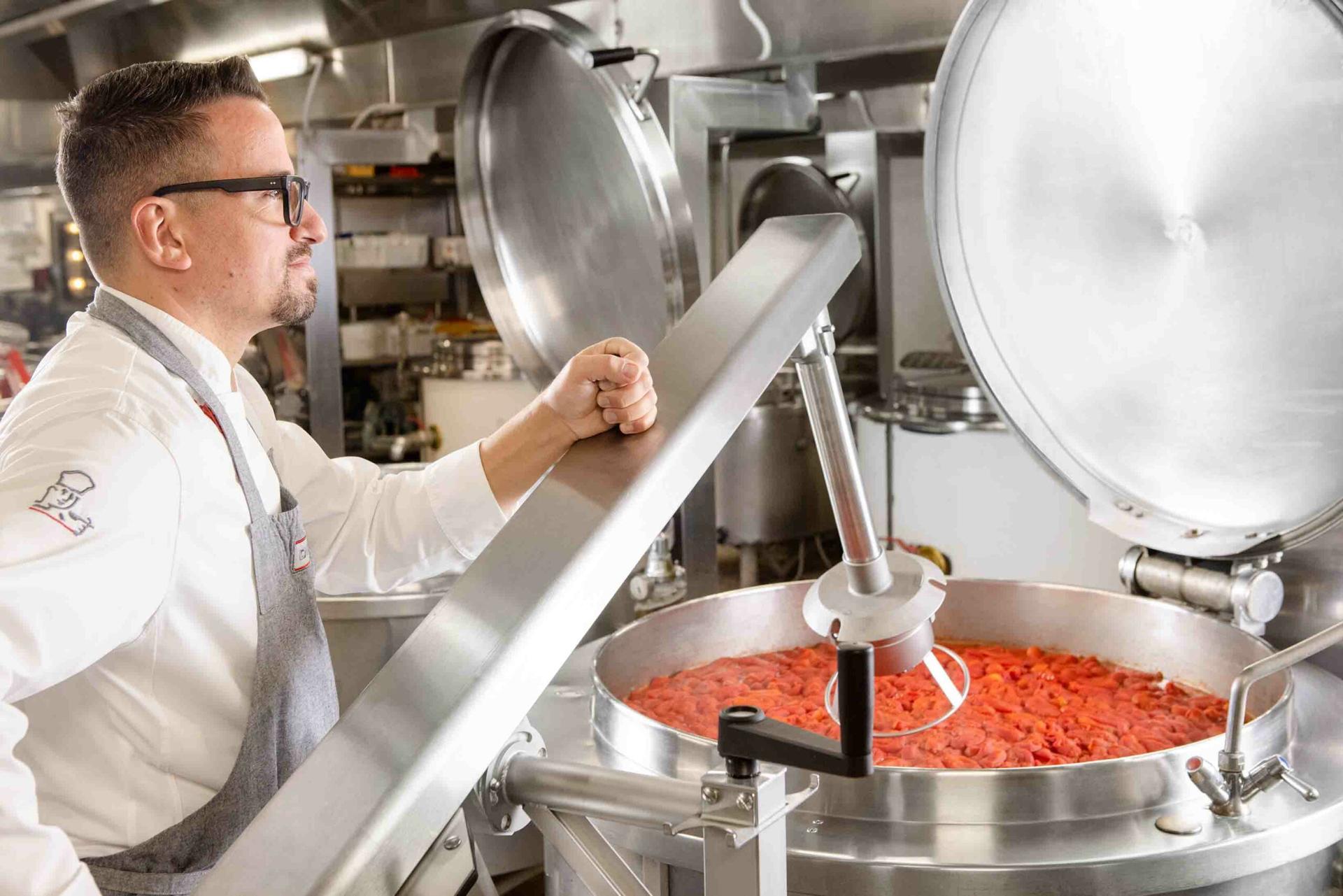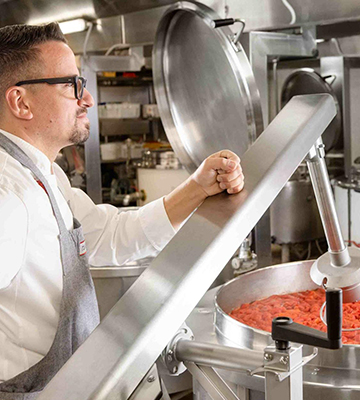 The TBX PRO: an essential ally
The Turbo Liquidizer TBX Pro is one of Dito Sama's flagship appliances and is essential for preparing large quantities of soups and purées. Discover a product that will make your daily life easier.
Simplified preparations
Mixing, blending, liquefying and emulsifying: the Dito Sama Turbo Liquidizer TBX Pro stands out as an essential for professional kitchens. Used to easily prepare vegetable or fish soups, it has also been designed to make purees (flakes or fresh purees), liquid batters, powdered mixes, emulsions or sauces, directly in the pots. Change the accessory according to the desired preparation and it's done!
The high volume specialist
Particularly suitable for large kitchens (central kitchens, retirement homes, hospitals, school canteens, etc.), the Turbo Liquidizer TBX Pro is ideal for preparing large quantities of food. It can prepare up to 700 liters of soup quickly and easily.
Easy to use and clean
The TBX Pro has been designed to be easy to use. Perfectly ergonomic, mounted on a mobile stainless steel trolley and equipped with an 8 meters power cord, it has been designed to be handled with maximum ease and to relieve the workload thanks to its facility of use.
It is also easy to clean, as all the accessories can be placed in the dishwasher. Finally, the Turbo Liquidizer TBX Pro complies with all hygiene (all components are made of stainless steel) and safety standards.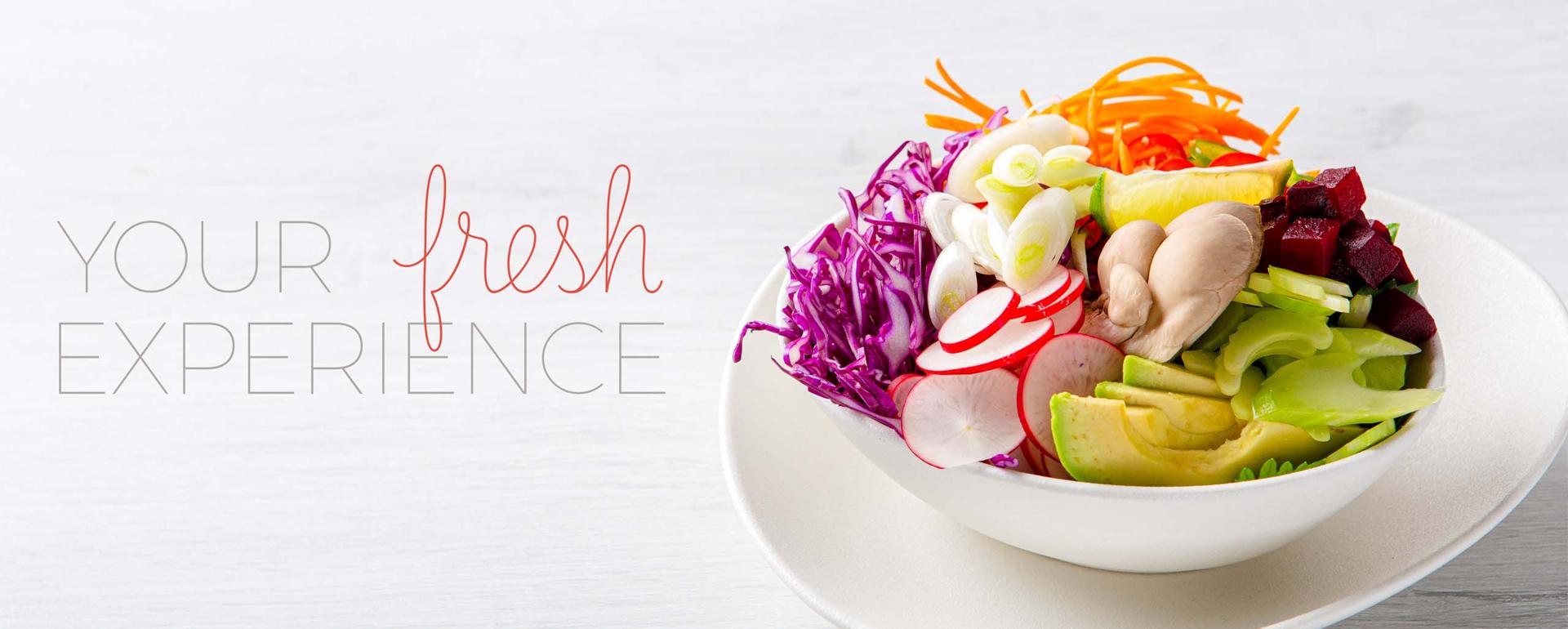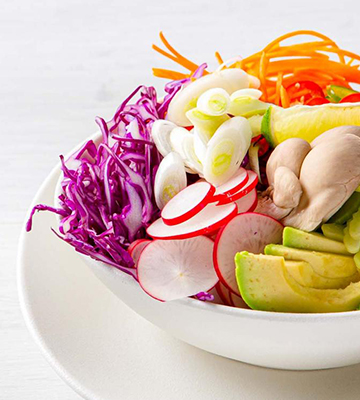 Dito Sama is freshing up!
For more than 75 years, the French brand has been the reference in Food Preparation, especially with planetary mixers and vegetable slicers. Essential allies to support food service professionals in their daily activities.
This year, Dito Sama is freshing up its image and is getting a new visual identity. A new logo, a stronger presence on social networks, the launch of a new website with a contemporary look: it's a new wind and a young spirit that is blowing over the brand!
"Your Fresh Experience!
To meet the needs and desires of all consumers, Dito Sama also makes it easier to prepare fresh and healthy food instantly. Fresh homemade salads, vegan or vegetarian cuisine, healthy food to eat on the go or to take away: the fresh homemade experience is now possible on every table! Dito Sama allows you to peel, cut, chop, mix, knead or whip a wide range of fresh and tasty preparations, while saving your time and effort in your daily professional work.
A French brand 100% expert
Dito Sama continues keeping a high level of reputation since the beginning. A true expert in its field, the French brand can indeed look forward to continuing its development, thanks to the unique quality of its products, manufactured in the heart of France, in the factory of Aubusson. A complete range of high quality products, easy to use and clean, which perfectly meet the safety and hygiene standards of the business sector.