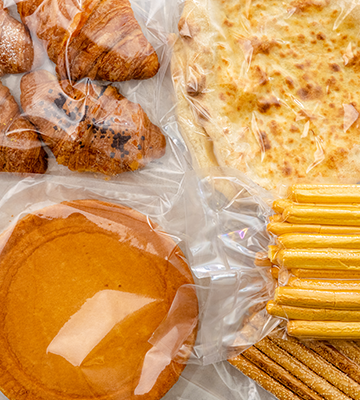 How to keep your fresh food longer?
Keeping your food fresh is an art! So what are the tricks to expand their life span? Here are our tips! 
Preserving in the fridge  
A good preservation of fresh food begins as soon as they are put in the fridge. The majority of fruits and vegetables should be placed in the refrigerator, stay cool and well protected from light, in the crisper part of the refrigerator, which offers the best temperature. To ensure freshness and avoid cross-contamination of ingredients use professional Gastronorm (GN) containers made of transparent polycarbonate or vacuum packed bags. But be aware that some foods need to be kept the open air and not in the fridge. This is the case, for example, for apples, apricots, potatoes, onions, or bananas. It is best to leave them at room temperature.  
Vacuum packaging.  
Vacuum packaging has many advantages. It protects fresh food from air and light which prevents it from spoiling, without using any preservatives. The air is removed by vacuuming, this significantly extends the shelf life of food and avoids food waste. (new corrected version)  Meat, fish, fruits, cooked vegetables, ready meals. Dito Sama offers a complete range of vacuum machines designed to help you preserve your food perfectly and longer. Finally, it should be noted that it is quite possible to freeze a vacuum-packed food.  
Canned food  
Another clever method for preservation is done thought canning. This makes it possible, for example, to buy tomatoes during the summer to enjoy them throughout the winter. Ready meals or vegetables in brine can also be canned. Dehydration is also a good option: apple chips, dehydrated mango strips or dried meat are yours!  
Blast freezing  
Last method to preserve your fruits, vegetables and other small dishes fresh, is by freezing, which is bet for long-term conservation. To preserve the nutritional value of food, the ideal is to cook and then blast freeze food. The golden rule of preservation is to keep your food at a temperature of -18 ° C. To conserve your products, use vacuum packaging or GN plastic containers that are made exactly for this purpose.  Also remember to label each dish by specifying the nature, weight and freezing date to remember accurately what you have prepared!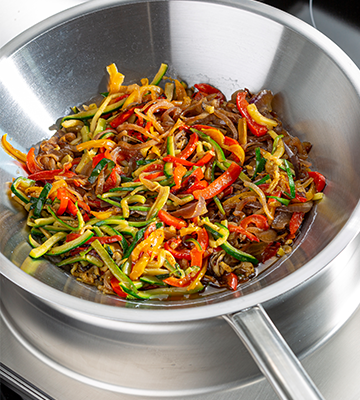 The healthiest cooking methods
Discover the healthiest cooking methods
Adopting healthiest cooking methods is important for health. To choose cooking methods for good health, but also to preserve the planet, follow the guide! 
Fast and gentle cooking  
Not all cooking methods are created equal. So to preserve your health, what are the most appropriate? First thing to know about cooking: a health cooking must respect the nature of the food and cook in the gentlest way possible. For example, avoid cooking too long in the oven, which denatures the food. For a qick cook, you can choose wok cooking, which allows you to sear meat and fish in a few moments and brown vegetables and fruits in a jiffy.  Another option: opt for raw, rich in vitamins.   
The Art of Steaming  
One of the healthiest cooking methods is steaming. It allows you to cook gently while preserving the benefits of food.  To give flavor to your small steamed dishes, use aromatic herbs or spices. Mint, bay leaf, coriander, curry, paprika, turmeric…  Vegetables or fruits are of course perfect for steaming. This is also the case of fish or meat, which will keep all their softness.
Choose the right materials 
When selecting cooking materials, it is important to opt for healthy options. Consider using glass, which is ideal for cake molds, as well as stainless steel. Terracotta, unglazed cast iron or porcelain are also intriguing choices as they are healthy, sustainable and natural. Scratches on your nonstick pan? There are risks of loss of toxic materials so head to the trash!  Finally, avoid aluminum foil when cooking, which can be toxic to the body, especially when it comes into contact with acidic foods.  
Avoid plastic! 
Cake molds are sometimes made of plastic and other low-end silicones, whose composition and provenance are not always identified. They can contain endocrine disruptors, so it's important to avoid them, especially when cooking.